The ABC's of a Professional Image that Sells
You represent the company's values, product, and service. Are you feeling stuck in the same position year after year? Do you desire to advance in your career? Want to set yourself apart from the crowd to move to the next level? Then knowing The ABC's of a Professional lmage that Sells might be the solution you need.
People make decisions based on perception. Your first impression can be a lasting impression. You can thrive in your career when you are clear and confident about your ABC's and what you represent in your profession. This can position you to impress, influence, and boost your credibility.
What is a professional image?
Definition – Professional image is the image that one projects about themselves based upon appearance and reputation. An image can be conveyed as professional by the way that you dress, the way you speak, the way you respond to others, and the way that others speak about you. (dictionary.com)
Image is a reflection of you and your organization.
A = Appearance: Attire, attitude, how you're perceived by others (first impression)
B = Behavior: Reputation, demeanor, conduct, ethics
C = Communication: Speak, verbal and non-verbal, respond to others
If your ABC's are lacking, it will show. If your ABCs are in tack, it will show. Your image (how you're perceived by others) and your level of success are intertwined and can influence how far you climb on the career ladder.
Practice your ABCs daily.
The way you look and appear to others is important. The way you conduct yourself, especially toward others, matters. The way you express yourself or exchange information with others gets noticed. How you see yourself or choose to represent yourself can be critical to your career.
"Continuous improvement is better than delayed perfection. "

— Mark Twain
I'd love to hear your feedback. Please like, share, or comment below.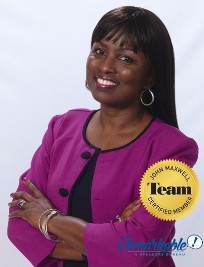 Pat B. Freeman
Empowerment Coach & Vision-Building Expert
Helping turn your Inspiration-to-Action, and your Passion-to-Profits!