Self-Publish Your eBook - 7 Week Challenge
GET YOUR MIND "WRITE": 7 Steps to Breakthrough!
Take the guesswork out of becoming an author! You can finally learn what it takes to write and publish an ebook, and sell it on Amazon - FAST and EASY! How is this so? Because you'll have a live person (ME) alongside you to coach you through it and Get Your Mind "Write" to navigate the process. Want a print book? We'll discuss that too.
This coaching program is designed for entrepreneurial-minded women and aspiring authors who:
Have a collection of poems or want to author your story?
Need an extra income but don't have a plan?
Want to earn income with a book?
Have wanted to write a book forever but don't know where to start?
Need a book to gain credibility and profit as a speaker, consultant, or coach?
Don't want to put off your dream any longer?
Lack the confidence or time to make it happen?
The Promise. You will:
know why you need to have the right mindset
know where to start and how to finish
know the step by step process and components of a book
know the tools and resources needed
be equipped to become a published author
Whatever the reason, the decision is yours.
Remember, the ball is in your court.
If it's going to be, it's up to you to Make It Happen!
I realize this may be an accelerated pace for new authors. Therefore, an additional 3-hours of access to me will be made available beyond the finish date should you absolutely need it, at no additional charge. My primary aim is to see you succeed. So be prepared to work.
Guided by Practical and Proven Steps I Use to Get it "WRITE"
- with Breakthrough Confidence!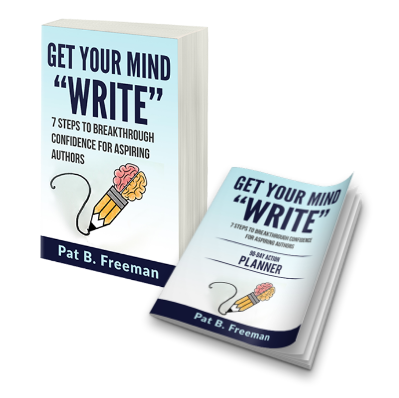 Week 1 (2 hours)
Idea and Mindset PREP
Perceive the Vision – Mindset & Breakthrough Clarity
Get acquainted
Clarify Your Vision
Identify and Define Any Problems, Barriers, Doubts, Fears
Disarm Dream Killers, Stealers & Fears – Change How You Think
Power Your Dreams with Decision and Determination
Organize for Success
Brainstorm Topic and Title Ideas for Your Book
Assign Exercises/Homework/Videos
Week 2-7
Plan, Produce, Publish
Build the Vision – Step by Step


Plan & Produce Product
Cover to cover requirements
Book Description
Copyright
Editing
Pricing
Cover Design
Formatting
Images
ISBN
Publish
About the Presenter
Pat B. Freeman (aka Dream Book Builder) is an author, self-publishing coach, and Passion-powered Publishing founder. She has published four books, is a contributing author in an anthology -- and wrote the foreword for Volume 2. Pat has a passion for empowering women and others with a mindset for success and actionable steps to achieve their book dreams. As a John Maxwell certified professional speaker, serial entrepreneur, experienced author, former radio show host, and podcaster, Pat's sole aim is to use her expertise to help aspiring authors become published.
Pat served more than 20 years in community college leadership as an Administrator of Adult Education, where she oversaw a team of 125 faculty and staff and approximately 3,500 students annually. She holds a Master's Degree in Educational Administration from Campbell University and a Bachelor's Degree in Theatre from Florida State University, with post-graduate studies in Mass Communications from California State University-Fullerton.
Pat is the proud mother of two adult sons who were kid entrepreneurs. In 2020, she helped her eldest son publish his first children's book and Coloring Book: "Goodnight, Little Dreamer" by Sterling B. Freeman.