Be a Guest on the Show!
REAL TALK
Interviews with Women Who are Winning Entrepreneurs (sharing their woes and wins)
Click the image below to hear my first announcement about the show when it was only a dream.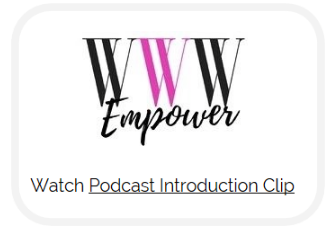 Are you a woman entrepreneur who wins, pushes through obstacles, and have a message, product or service that will inspire and empower other women to win? If so, you may be just the right person for the show! To be considered, please continue reading. Then complete the Guest Interest Form below.
NOTE: Your entrepreneurial focus should be your primary profession or an income stream with notable evidence of proven (measurable) success and thriving business that can empower other women to grow and win.
Upon review of the Guest Interest Form, if it is a fit, you will receive an email within 3-7 business days with the next steps to schedule your interview.
Interested? Read Further and Submit the Form Below
Want to share your story and showcase your business with entrepreneur-minded women everywhere? This show has an entrepreneurial focus and welcomes guests from various sectors and industries. The mission of the Women Who Win Empower Podcast is to inspire and empower women to take action on their passion, goals, and entrepreneurial dreams through listening to the stories, challenges, and business achievements of other women who are achieving success in their businesses despite obstacles. A foundational principle of this show is the belief that there is an entrepreneurial spirit in everyone. This show will tap into that entrepreneurial genius and empower it to thrive -- because success inspires success.
Are you a female entrepreneur or authorpreneur who is experiencing great success in your business?
Have you faced professional and personal challenges along the way that seemed insurmountable at first, yet you overcame them despite the obstacles?
Do you recall when your idea to start a business was only a dream, and you didn't know where to start, but you found a way?
Can your product or service inspire or empower other women in business and others who aspire to achieve their big goals and entrepreneurial dreams?
If this is you, complete the interest form below. Who benefits from having successful women share their stories? It's a win-win for everyone when Women Who Win Empower others to win!
Share your success, woes, and wins with thousands of women in business, those aspiring to quit their 9-5 someday, many who desire to expand their knowledge or network, others who want to author that book that lives in their mind, and more!
It's a new show that's on a mission to empower women to win! Check out current episodes here: http://www.patbfreeman.com/podcast
Episode 1: Show Introduction
(Male Guests are Invited: Be inspired by periodic segments where we will also feature men who stand in the gap to uplift and further empower women to win!)