Be a Guest on the Show!
REAL TALK
Interviews with Women Who are Winning Entrepreneurs (sharing their stories of woes and wins)
Click the image below to hear my first announcement about the show when it was only a dream.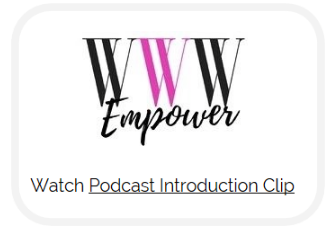 Are you a woman entrepreneur who wins, pushes through obstacles, and have a message, product or service that will inspire and empower other women to win? If so, you may be the right guest for the show! To be considered, please continue reading. Then complete the Guest Interest Form below.
NOTE: Your entrepreneurial focus should be your primary profession or an income stream with evidence of proven (measurable) success in a thriving business that can empower other women to grow and win.
Upon review of the Guest Interest Form, if it is a fit, you will receive an email within 3-7 business days with the next steps to schedule your interview.
Interested? Read Further and Submit the Form Below
Want to share your story and showcase your business to other entrepreneur-minded women everywhere? This show has an entrepreneurial focus and welcomes guests from various sectors and industries. The mission of the Women Who Win Empower Podcast is to inspire and empower women to take action on their passion, goals, and entrepreneurial dreams. Listen to the stories, hardships, challenges, and business achievements of other successful women who are thriving in their businesses despite the obstacles faced in their personal or professional life. Hear their stories and be inspired to be unstoppable. There is an entrepreneurial spirit in each of us. This show will tap into that entrepreneurial genius and empower it to thrive -- because success inspires success.
Here's what you'll get:
Podcast Interview
Episode hosted permanently on this website
Episode streamed and available for download on iTunes, Stitcher, and Soundcloud
Social Media promos (3-5 days) leading to the airdate
1 Email blast to our email subscriber lists
Promotion Support Continues Beyond the Interview. You'll Get:
The Audio File to use as you wish
Re-Blast: Old episodes will be blasted again across our social media accounts and email lists to increase exposure and listenership
Blog Feature: Submit an Inspirational Guest Post or Biz Card for Ad
Product/Event Share on Social Media Accounts (Facebook, Twitter, Instagram, LinkedIn)
Author Book Review/Testimonial and Social Media Shout Out
1 Year Anniversary Update Chat on Facebook Live or Zoom
Business Listing in the WWW Empower Directory - Headshot and business description (Available for download and distributed as a free giveaway on our blog posts, in email campaigns, etc.)
Each is available within 12 months after the episode airs.
INVESTMENT: All for Only $75. Most of the fee is cycled back into production and promo costs. Also, get 10% from any referral who is approved and booked for an interview.


VALUE: Priceless. No other podcast offers the empowerment that we offer to our featured guests. And we plan to keep the empowerment support coming because we're about the business of inspiration and empowerment of women!

NEXT STEP: Submit the Guest Interest Form below. Upon approval, you will receive a link to submit the fee and schedule your interview.
Check out all episodes here: http://www.patbfreeman.com/podcast Episode 1: Show Introduction
2019 GUEST SEARCH: If you (or someone you know) is a successful business owner and have experienced any of the following challenges in your journey, we would love to have you on the show:
divorce
job loss
abuse
GED recipient
college dropout
other